Purchasing is one of the most interdisciplinary fields in the company. It sits in a crossroad of several workflows, requiring broad skills set in managing buyer's work queue on short and long term basis.
Typical day of a buyer is full of interruptions, sudden tasks and requests to perform actions with "yesterday" deadline.
Buyer has to plan his/her daily agenda very carefully on one hand to be able to deliver own KPIs and on the other hand to support internal business partners and keep service level high.
This workshop equips team of buyers with skills and tools to better manage Buying Center, which they belong to.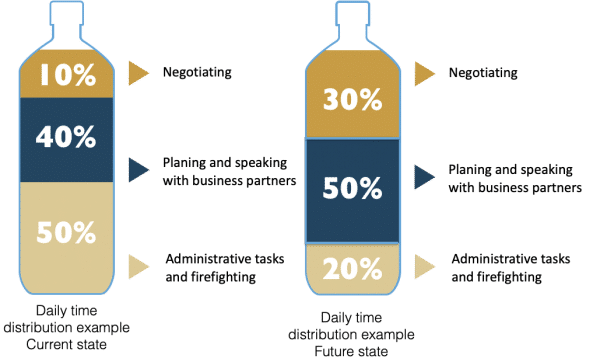 Training framework agenda
Project management in procurement
Project, what does it stand for in procurement?
The main differences between agile & traditional approach to projects
Routine tasks vs. project management
Project lifecycle
Urgent vs. important
Sourcing project management
Project plan: backward & forward planing, critical path, project milestones and gates
KPIs & TCO definition at the project level
Expected ROI (time vs. money)
Partners engagement schedule
RASIC
Project based portfolio management
Prioritizing of projects list
Criticality matrix
Assessing risk vs. implementation complexity
Stakeholders expectations management
Initial resources planning
Stakeholders management
Internal & external partners mapping
Influencing & convincing partners to collaboration on project
Project team management
When we do have the biggest impact on value & cost
Functional specification, value for money
18+ years of experience in project sourcing and strategic procurement. Managing Partner at Eveneum, a company specialized in advisory and competencies development. Focused on sectors where relationship building and trust element between partners is the mission critical factor. Supports customers on early suppliers engagement processes and early procurement engagement into R+D work. He has been delivering projects related to: negotiations on behalf, niche technology suppliers scouting. Keynote speaker at Polish and international conferences. Lecturer at Jagiellonian University  (Procurement Management post graduate studies).
Project management in procurement. Agile & traditional.
Delivered in closed class version.
Contact us if you want to attend open class.