Eveneum's Negotiation Coaching. 35 hours of intense work!

The training consists of:
individual on-line session
24 hours of negotiation training
preparation of the personal Negotiation E-360 profile
We invite you to our proprietary program based on Eveneum's Negotiation Compass®.
Effective negotiator knows that Satisfaction is the key in doing business. At the both sides of the table. Negotiation Coaching helps to achieve a higher level of effectiveness, maximize personal endowments, eliminate routine and weaknesses.
 Typical participants of the training are C-level executives, sales and purchasing managers, lawyers, board members, business owners. Trainer-practitioner works with a group of only 8 people.
EVENEUM NEGOTIATION COMPASS® WILL TAKE YOU TO FOUR LEVELS OF BUSINESS RELATIONS:
Bargaining - here and now
Concession trading - see you again!
Relationship building - cooperation is a key
Partnership - money is not everything
Each is a specific and requires special approach. All are important and we treat all with due care. During our workshop you will practice how to deal effectively at each of the levels and what negotiation technics work best for them.
Negotiation Compass® and Negotiation E-360 are real boosts guaranteeing effectiveness and satisfaction in every negotiation!
Conflict and fairness – risks and opportunities
Time And Silence
Emotions
EGOs and Personalities
Preparations and informational meetings
Selling & Buying vs. Negotiating
Managing teams and tasks
Concession trading technics
Asking questions effectively
Defending against manipulation
Negotiations adequate to business relations
Positive reinforcement
Power Statement
Non-verbal communication
Developing negotiator's authority
Technics reinforcing message
Negotiation Planner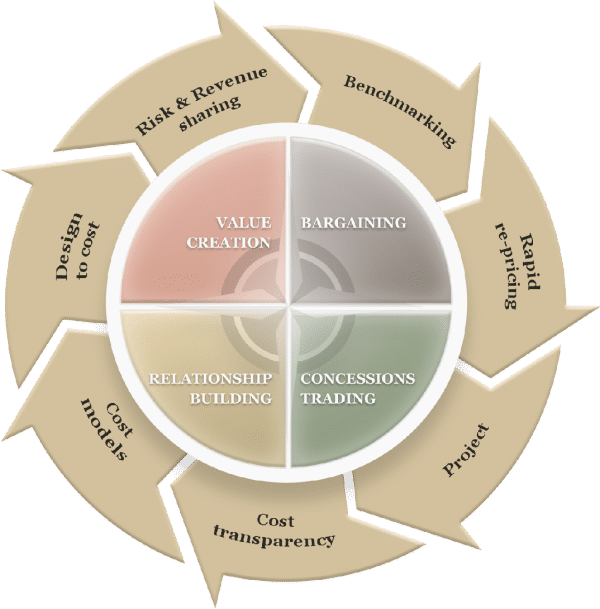 Each participant of this workshop becomes a member of the Eveneum negotiator community. He can count on our support in further improving his negotiating skills in the form of individual work by:
Negotiating Shadow workshop
more negotiation practice with the Eveneum Negotiating Sparring Partner
Negotiation coaching with Negotiation Compass®
Training venue: Kraków/Warsaw

The final decision on the venue will be taken a few weeks before session
Sign up for open class training
Request an offer for your team
Schedule a free consultation with our expert
Check our other in-class programs out