Technology changes, geopolitics, pandemia are reasons to review strategy and look again at what to make or buy
"May you live in interesting times"
This English proverb arguably is a translation of a Chinese curse. Covid-19, Russian invasion on Ukraine… Procurement job was never easy but last years took it to the new level. Today procurement professionals are not asking themselves when problems will be over but what will be next…
Covid-19 and war in Ukraine verified the strategy of global sourcing. Many companies urgently relocate supply base closer to their locations, focusing on regional or even in-country sources. There is something more that can be done. Turbulent times are a good moment to think more strategically about internal capabilities and refresh/prepare Make or Buy analysis.
What is a Make or Buy about?
A make or buy decision is about choosing between manufacturing a product / delivering a service in-house or purchasing it from an external supplier. It is just a bit more complex process to what happens in private life :). To bake a bread or to buy it? To repair a car yourself or go to a professional car workshop? In business life the make or buy analysis helps to set priorities for investments in technological, capital and human resources. It helps with selecting capabilities that should secure competitive advantages of the business.
Analysis can help to justify outsourcing of the certain functions like for example accounts payable, transactional procurement, engineering services or to choose between delivering product or service internally or with support of external sources.
When to perform a Make or Buy?
There are various reasons for performing  make vs buy analysis. Here are some examples based on my experience as a global category manager for direct materials and a head of indirect procurement:
considering investment in a new equipment
preparation for expanding internal capacity
considering investment in a new technology
considering development of certain capabilities internally e.g. IT, technical: CAD, FEM, maintenance, security,…
evaluating in-sourcing idea
selection of the key, strategic capabilities business should maintain internally (manufacturing,
preparing or refreshing the strategy for procurement category
analyzing a risk of delivery failures
It is all about comparing the costs and benefits of producing goods / delivering services internally and the cost and benefits of getting them from an outside supplier
Who is responsible for a make or buy decision?
The process, especially in manufacturing environment, should be coordinated by procurement and decision needs to be based on an input  from production, IT, HR, maintenance, finance, ... Procurement brings to the table knowledge about the market like supply base capability & maturity, available capacity, a cost structure and risk analysis. Procurement input should include Kraljic supply segmentation to better understand dynamics in relations with suppliers and potentially identify those areas that require modification. Every department should complete the picture with the perspective of their respective area. For example HR with employment challenges and people development; finance with business case evaluation, analysis of fixed/variable costs; production with responsibility for definition and evaluation of the technical solution; and so on…
What should we look at when doing a Make or Buy?
The two critical elements of the analysis are:
Business criticality – how important is it to the company?
Competitive benefit – how will it improve competitiveness of the company?
Examples of questions that should be asked to understand the business criticality:
Will maintaining an in-house capability allow company to develop or maintain a competitive advantage?
How important is this product/service to the company / customers?
What impact will have an in-house capabilities on innovation & improvement opportunities?
What will be an impact of buying on critical skills that might be difficult to recover in the future?
Examples of questions that should be asked to understand the competitive benefits:
How does the internal TCO compares with external benchmarks?
What investment is needed to meet the level/exceed externally available capabilities?
What are the interdependencies that could cause disruptions to interfacing processes/activities and impact overall cost structure of the company (fixed/variable)?
What are the performance improvement opportunities for this activity if performed in-house?
Make or buy should involve assessing all the quantitative (relevant costs) and the qualitative (strategic) issues that affect the decision or may arise because of the choice.
Results of a Make or Buy. Four scenarios
 Make
Goods or services which will be provided in house.
Protect
Goods or services critical to the business but company is either not competitive or does not have the capability in-house.
Control
Goods or services that are no longer business critical but should be produced / controlled internally due to their impact on competitiveness.
Buy
Goods or services with low criticality rating that will be  outsourced
For each of above groups there are initiatives company needs to undertake in order to secure required service level to customers or to secure capacity & capabilities. Those could be adequate contracts with suppliers or internal investment plans.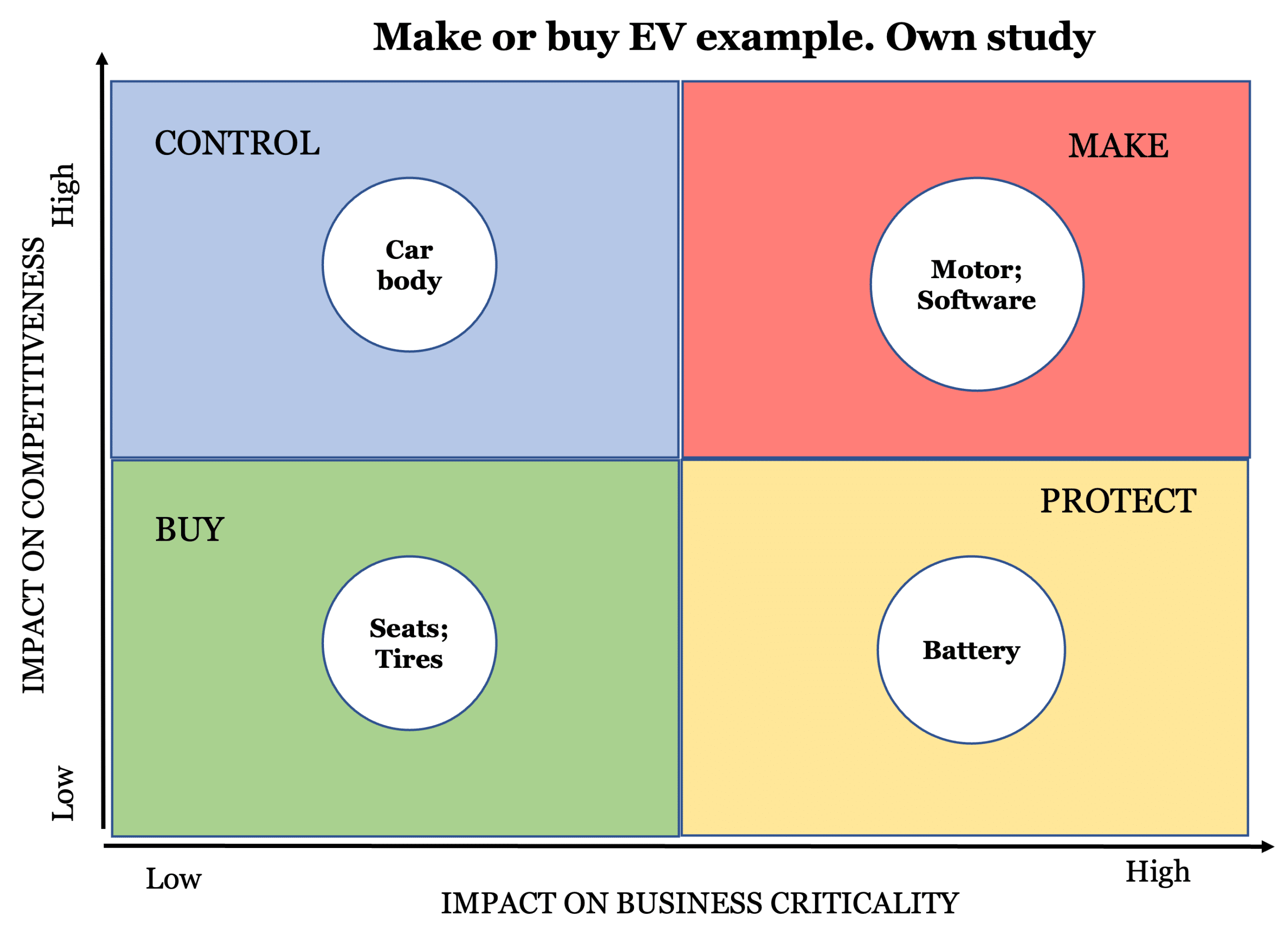 Last but not least
The output from the make or buy workshop is an initial recommendation, a basis for a joint strategic decision taken by the business functions. The final recommendation can include scenarios like JV or joint technology development agreements with suppliers. Current trend in electrical vehicles industry is to do more MAKE to avoid dependency on suppliers and maintain competitive advantage. There is no one-size-fits-all solution. A critical functions of a business should jointly determine what can be purchased and what should stay in-house.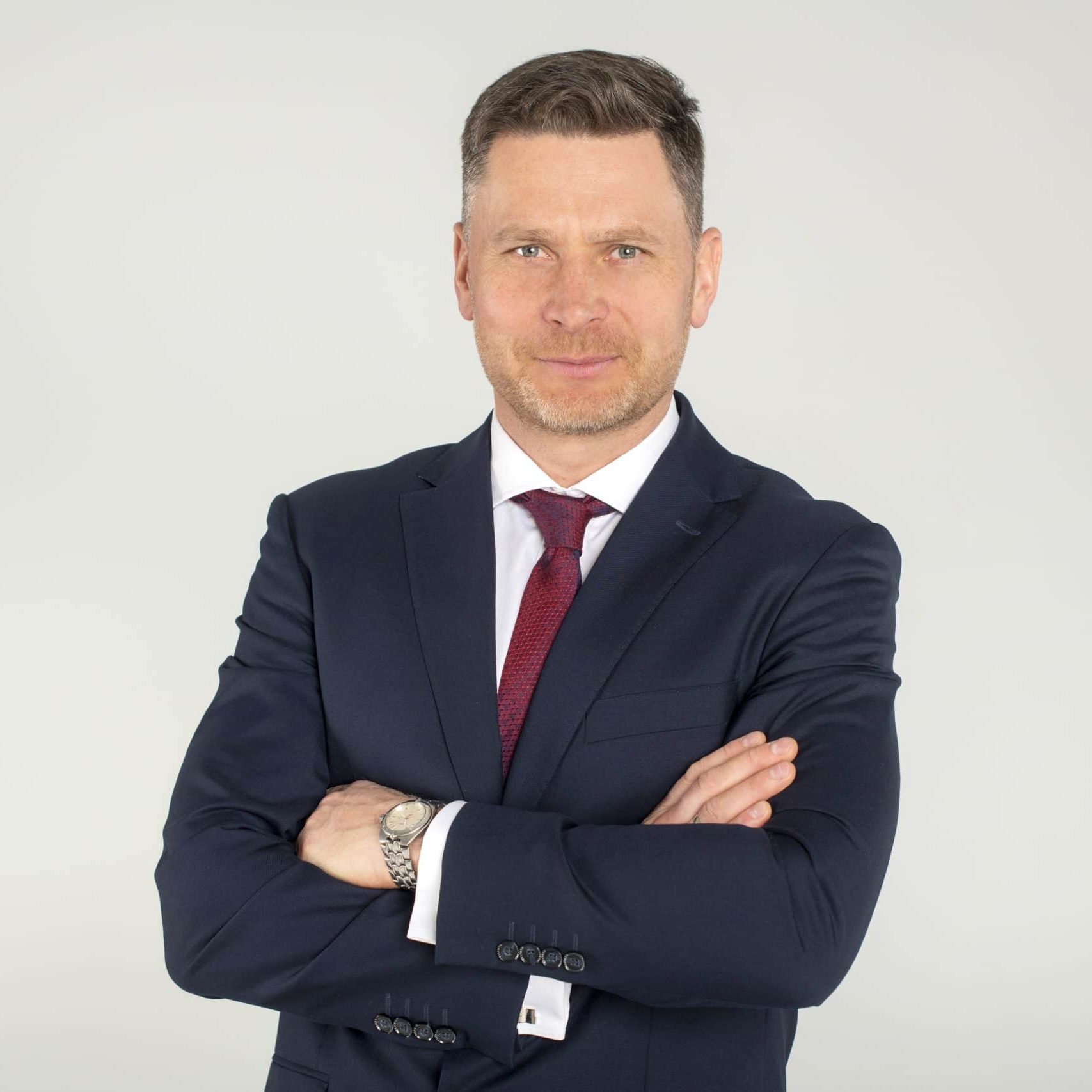 Szymon Tochowicz
Head of procurement, aerospace engineer
Head of procurement, aerospace engineer with 18 years in strategic sourcing. Managed teams of strategic buyers and category managers at the regional and global levels. Responsible for the project "Why Purchasing?" promoting procurement as a function. In Eveneum he is involved in consulting projects and customized trainings. He is specialized in automotive, aerospace, defense and energy industries. Trainer at the European Institute of Purchasing Management and lecturer at the Jagiellonian University.