How war in Ukraine and sanctions on Russia may impact short and mid term sustainability of global supply chains. Status as on 21st of March 2022. Part 1.
We hosted online purchasing community meeting on 18th of March 2022. 60+ experts joined to get insights and to discuss about consequences to global supply chains sustainability of Russian invasion on Ukraine.  The ongoing war in Ukraine resulted in sudden interruption of manufacturing activities in Ukraine. Sanctions on Russia imposed by law and additional volunteer cease of operations in Russia resulted in harsh disturbances in logistic flows worldwide. In our meeting we decided to focus on the following industries and resources:
automotive
steel
nickel
aluminum
Raw material markets we will describe in the next article as an abstract of our webinar.
How automotive sector is impacted?
There is no significant presence of OEMs in Ukraine. Ukraine is an important player in the automotive tier1 landscape of supply chain. Wire harness and EMS manufacturers invested in production capabilities in western Ukraine in the pursuit of low labor cost and logistic proximity to OEMs sites in Czechia, Hungary, Germany and Slovakia. It was natural move for them to remain competitive, when wages in Poland, Romania and Slovakia inflated to the levels not acceptable for the labor cost driven business.
Generally automotive sector has been already under pressure due to shortages of electronic components. OEMs were forced to revisit production forecasts what impacted all actors, even if they did not manufacture electronic related products. Simply the total output of vehicles production has been lower than should be for months. Ukrainian government strategy has been to attract wire harnesses and EMS makers. Likely the leadership intended to repeat the success story of other Central European countries, which builded their reputation in automotive sector and attracted more capital intensive foreign direct investments (FDI) later on. All that was stoped as the war started. Companies like Aptiv, Sumitomo, Yazaki, Leoni had to halt manufacturing of wire harnesses and to transfer several product lines elsewhere.
Will wire harness and EMS production stop in Ukraine have significant impact on the sector?
We have to remember that facilities in Ukraine were mainly assembly locations. The production of components (cables, connectors, terminals, coverings, etc.) takes place in Asia or Central/Eastern Europe. The main wire harness can be composed of hundreds or even thousands of components, where the majority is a kind of catalogue parts that are assembled like lego bricks. OEMs own the specification and usually apply dual source policy per vehicle platform. The tier1 market of wire harness makers is quite consolidated. Limited number of tier1 companies have got multiple production sites across Europe (e.g. Romania, Turkey) and North Africa (e.g. Morocco, Tunisia). The turbulences for entire automotive sector will be greatly smaller and more short term compared to covid-19 and semiconductors crisis, provided that:
the wire harness makers manage to find 20.000+ assembly operators in other countries short term
the logistic effort to change logistic flow of thousands of components will be successful and without any errors
Electronic Manufacturing Services (EMS) activities in Ukraine were limited in comparison to wire harnesses.  Likely more labor intense products (lower volume or manual assembly value add activities) were transferred to Ukraine. Almost all EMS suppliers  (beside two in Kiyv area) are situated in Transcarpatia region (border with Poland, Slovakia, Hungary, Romania). Global players should be able to redirect their components streams from Asia to other EMS locations in CEE region.
How as a buyer, commodity leader, director can you help nowadays?

Remember that Romania, Slovakia, Moldova, Poland, Baltic States host already above two millions of refugees from Ukraine. Majority of them are women with children. We do not know how long the war is going to last but it is our responsibility to provide them shelter and an opportunity to work. When you perform sourcing project, please consider locations where refugees are hosted. Create jobs as a form of slid support to Ukraine.
How sanctions on Russia can impact global supply chain of components in automotive sector?
More OEMs have presence in Russia than in Ukraine. In the overwhelming majority of the cases manufacturing plants in Russia are focused on domestic market. The most of high tech components needed to assembly the vehicle are imported from Western Europe or from Korea or Japan. The cease of vehicles assembly will have mainly impact on Russian domestic market. Of course at HQ level of OEMs they will report losses what will impact annual financial results.
New passenger vehicles sales in Russia. 2008 vs. 2019.
Vehicles sold in Russia in 2008
Millions
Vehicles sold in Russia in 2019
Millions
Without the constant stream of components from Europe and Asia, vehicles in Russia definitely cannot be assembled. Even if Russian government threats that will nationalize automotive plants or will come back to the old design of vehicles (100% local content), it is not possible. OEMs should be not afraid to leave Russia, even if they suffer substantial losses this year. In the future when the war is over Russian leadership will have to attract OEMs with gigantic subsidies. It could mean better profit for Western OEMs than by continuing operations in Russia under sanctions regime. The open question is how Chinese OEMs and government will approach Russia meanwhile.
Russia exported $0.61B worth of automotive components in 2019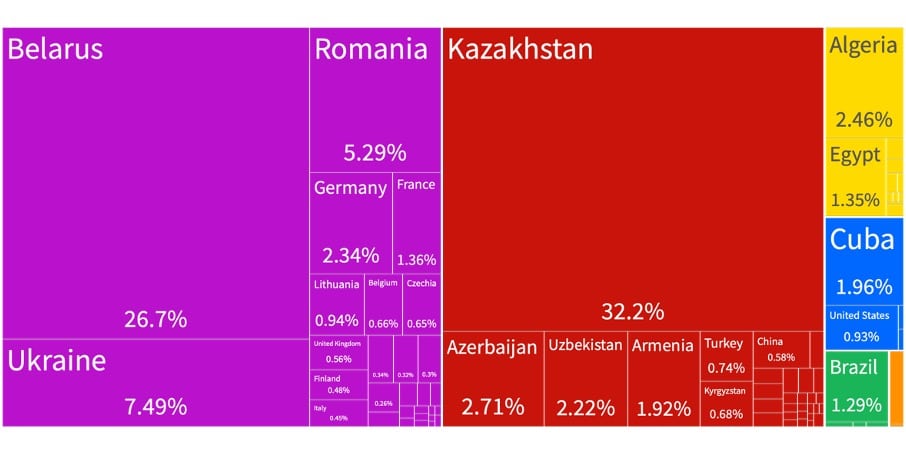 Is your supply chain suffering from lack of components from Russia or Ukraine?
5 minutes abstract from the meeting. Contact us if you need 60 minutes long recording of entire event.
18+ years of experience in project sourcing and strategic procurement. Managing Partner at Eveneum, a company specialized in advisory and competencies development. Focused on sectors where relationship building and trust element between partners is the mission critical factor. Supports customers on early suppliers engagement processes and early procurement engagement into R+D work. He has been delivering projects related to: negotiations on behalf, niche technology suppliers scouting. Keynote speaker at Polish and international conferences. Lecturer at Jagiellonian University  (Procurement Management post graduate studies).